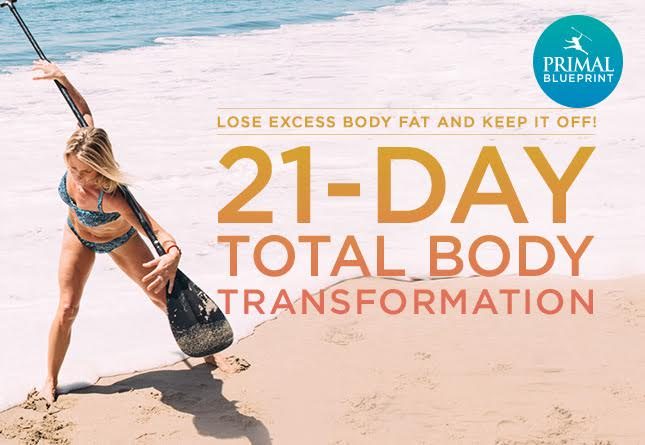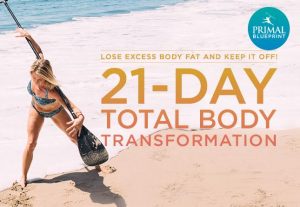 The 21 Day Total Body Transformation is the perfect way to start your journey towards lifelong wellness. We offer all the support you need to make the most out of your 21 days!
Support Includes:
Daily Challenge Emails
Access to a Daily Journal
Food Tracking Journal
Primal Blueprint Approved materials
Membership to a private Facebook Group
Private Chat Based Virtual Coaching
The 21-Day Total Body Transformation Challenge is designed to rejuvenate your body and revitalize your metabolism–switching your preferred fuel source from glucose to fat, and keeping you feeling satiated and energized throughout the day. Join us on our start date, and become a part of a whole group of motivated individuals committed to health! 
In following the challenge's core principles, we'll be taking on a holistic health plan that is both creative and sustainable. It works. By utilizing a diet high in nutrient-rich foods, cutting out processed foods, spending time outside, working out regularly in ways that are different and fun, and getting adequate sleep, we'll be motivating each other throughout the summer to feel great!
The ambitious pace of a 21-Day challenge can sometimes trigger anxiety on occasions when you fall a bit behind. We want you to prioritize this program, but we certainly don't want you to feel pressure to keep up the pace.
There are many ways to embrace the spirit of the course at different levels and paces. Furthermore, if circumstances interfere and you need 8 or 10 days to complete a "week" of the program, you can certainly play catch up when you have a chance with most everything in the course, except the workouts. If you miss a workout on a certain week, let it go and pick up the agenda as directed in the following week.
Note: By purchasing the 21-Day Total Body Transformation, you acknowledge that you understand all sales are final and refunds will not be issued.