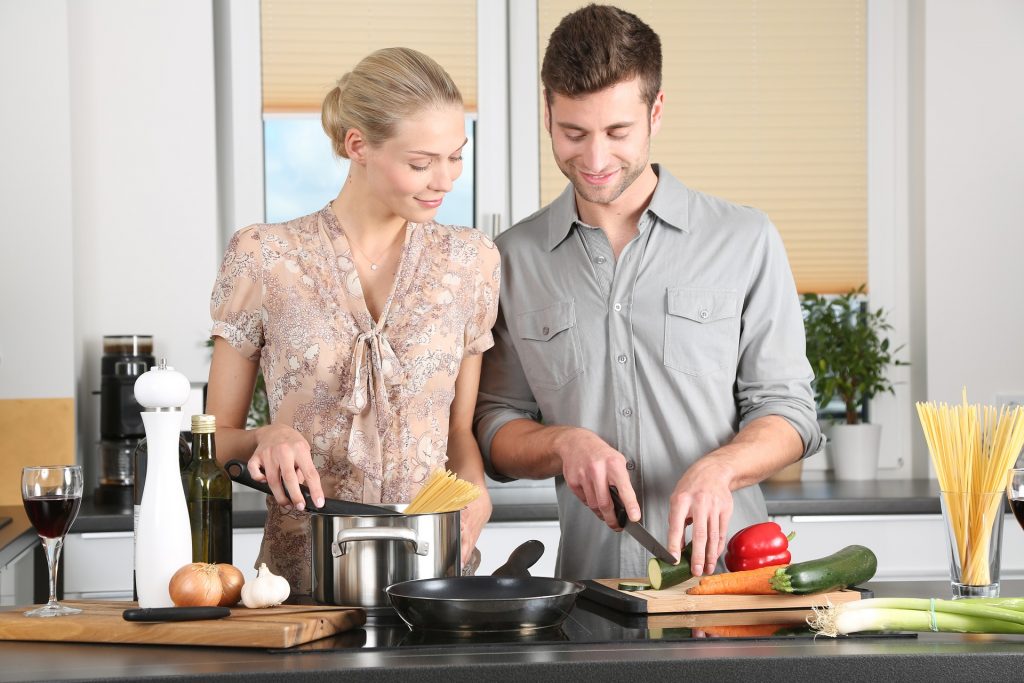 While it is possible to get by with a few pans, a good knife, and a spatula, it doesn't make things easy. There are enough complicated things in our life, cooking shouldn't have to be more difficult than necessary. To make the process of food production and preparation easier, I've included a list of my favorite kitchen essentials. I know this list isn't comprehensive and I will probably add to it as I accumulate new things or remove things I no longer use. Hopefully, these kitchen essentials can help you in your journey to living a modern, Primal lifestyle!

This is my favorite kitchen essential, I don't know what I would do without my Instapot! This device has been a time saver in ways I could never predict. Not only does it cook food quickly, but it makes enough food to feed you for a week and there isn't much you can't cook isn't this thing. I use it for bone broth, cooking 2 lbs of chicken breast at one time, large briskets, pot roasts, veggies, and the list goes on. I would purchase this in combination with the Keto Instapot Cookbook.

Do you want fried food without most of the toxic byproducts that come from deep fat frying? The SimpleTaste Air Fryer is an attractive, convenient and easy to clean option. With reduced oil requirements, an air fry can reduce toxic byproducts such as acrylamide formation by 90%1 and it is often reported that food tastes better using this method!
I use my Nutribullet to make everything from smoothies, sauces, flours, bulletproof tea (I can't handle coffee) and more. It's easy to use and clean, it also chews through ice and hard seeds with ease. The motor is strong enough that you aren't worried it's going to melt onto the counter. The Nutribullet is also not so heavy you can't pick it up and shake it, but not so light it starts vibrating off the counter.

I know Teflon can be very convenient, but it also deteriorates quite easily and can release a carcinogen known as Perfluorooctanoic acid (PFOA) into food. According to the American Cancer Society, PFOAs can stress certain organ systems. More specifically: "Studies in lab animals have found exposure to PFOA increases the risk of certain tumors of the liver, testicles, mammary glands (breasts), and pancreas in these animals." I don't know if PFOAs "cause cancer", but it is likely that PFOAs stress those organ systems implicated in previous studies. Ceramic cookware is a great way to enjoy nonstick cooking and not continuously contaminate yourself with low levels of PFOA.
There are numerous easy to prepare Paleo, Primal and Keto recipes using the ever-versatile muffin tin. If you are wanting to enjoy recipes like pepperoni pizza cups and various egg muffins, then a silicone muffin tin is a true kitchen essential. They are easy to clean and it is super easy to pop your culinary masterpieces right onto your plate, as opposed to having to scrape them out. Save yourself time and frustration.
Honestly, get whatever immersion blender you want, there really isn't a bad one. This blender is essential if you want to make your own mayo, which I HIGHLY recommend. The mayo you make yourself is easy and more delicious than anything you'll get out of a bottle. Otherwise, it's great for soups and mashed cauliflower, it can also work as a makeshift food processor.
With all the healthy version sauces and dressings you are (hopefully) making now, you will want a way to cleanly and efficiently slather your main dishes. The PBA free sauce bottles have lids on both sides and sit upside down so you don't have to shake the bottle. These bottles are also easy to clean, we love using them for mayo and aoli!
Have you ever had egg sous vide from a certain, very popular coffee chain? With this pressure cooker accessory, you can easily make your own egg sous vide and save yourself a daily $5. This is my family's favorite new cooking tool and has led to some amazing breakfasts involving bacon, gouda egg sous vide.
A mandoline slicer is a kitchen essential for quickly slicing uniformed sized veggies and other root vegetables. This kitchen essential is great for making sweet potato buns, stir fry veggies and toppings to a delicious "Big Ass" salad. Traditionally used to minimize prep time when making gratins, slaws, and french fries. Mandolines are tremendously versatile! In seconds, a carrot will transform into silky ribbons for a salad, Brussels sprouts into shreds for a stir-fry and a lemon into virtually transparent slices for a cocktail garnish.
So, what's so great about the veggie zoodle trend? Well, a lot, actually. And at the root of it all is helping you to eat more veggies. Getting a spiralizer can help change things up and make veggies a little more exciting again. Spiralized veggies are low-carb. If you're dieting, diabetic or looking to lighten up some meals, swapping typical pasta for veggie noodles is a great idea. This kitchen essential will save you a lot of carbs and calories, all while gaining important nutrients. Have food allergies or trying to cook for someone who does? If you are gluten-intolerant and miss the pasta experience, spiralized noodles let you have that without the wheat.
Required Disclaimer:
We are a participant in the Amazon Services LLC Associates Program, an affiliate advertising program designed to provide a means for us to earn fees by linking to Amazon.com and affiliated sites. This doesn't incur any extra costs on you, it is just a means to offer products you might want as a client and help to support the continued functioning of the website.

References:
Sansano, M., Juan‐Borrás, M., Escriche, I., Andrés, A., & Heredia, A. (2015). Effect of pretreatments and air‐frying, a novel technology, on acrylamide generation in fried potatoes. Journal of food science, 80(5), T1120-T1128.
https://www.cancer.org/cancer/cancer-causes/teflon-and-perfluorooctanoic-acid-pfoa.html