There really is nothing more convenient and delicious as egg muffins, there's a cornucopia of possible ways to prepare them and they can last for days. Here's yet one more egg muffin option, a great lunch salad and even FRIED RICE!
Recipes Include!
Paleo Egg Muffins
Thai Chopped Chicken Mason Jar Salad with Chili Vinaigrette
Paleo Pineapple Fried Rice
Breakfast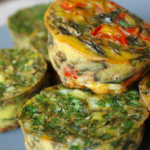 These Paleo egg muffins are a simple and delicious combination of egg, kale, garlic and tomatoes (with a few other herbs). Mix your eggs, add the chopped ingredients, pour into silicone muffin pan and through in the oven. Feel free to add your favorite breakfast protein like cooked bacon, ham, cooked sausage or even chicken!
Lunch
Lexi's Clean Kitchen offers a great and convenient mason jar salad option that is perfect for taking to work. This Thai Chopped Chicken Mason Jar Salad with Chili Vinaigrette is an awesome mixture of chopped lettuce, grilled chicken, spicy broccoli, mango and cabbage slaw, roasted red peppers & tomatoes, and chili vinaigrette.
Dinner
This Paleo Pineapple Fried Rice dish is an amazing combination of sweet, salty, savory and healthy! You have got to love recipes that offer the amazing taste and mouth feel of starches, but is actually vegetable and protein packed. You and your family might find yourselves eating this all the time, and that would be fine.
Meal Basics
When you don't feel like cooking, there are always the meal basics. Select your favorite simple dishes on the days you aren't feasting on the above recipes. Also, don't forget to peruse the tools of the trade and find some kitchen gems to make your life easier. Once you've cooked and tried the delicious recipes from this article, let me know how you liked them. More importantly, let me know if you somehow made them more delicious! See you next Monday!
Meal Basics
Tools of the Trade